Award-Winning Field Professional Discusses the Pursuit for World-Class Results
When it comes to turf standards, Certified Sports Field Manager Dan Bergstrom sets the bar high. During his long career in professional and college sports turf management, he has put in the hard work to deliver elite playing surfaces for soccer, football, and baseball. In each endeavor, his goal has been to reach the next level, and with Platinum TE Paspalum, he believes he's done it.
Conquering Shade Issues and More at the Houston Astros' Minute Maid Park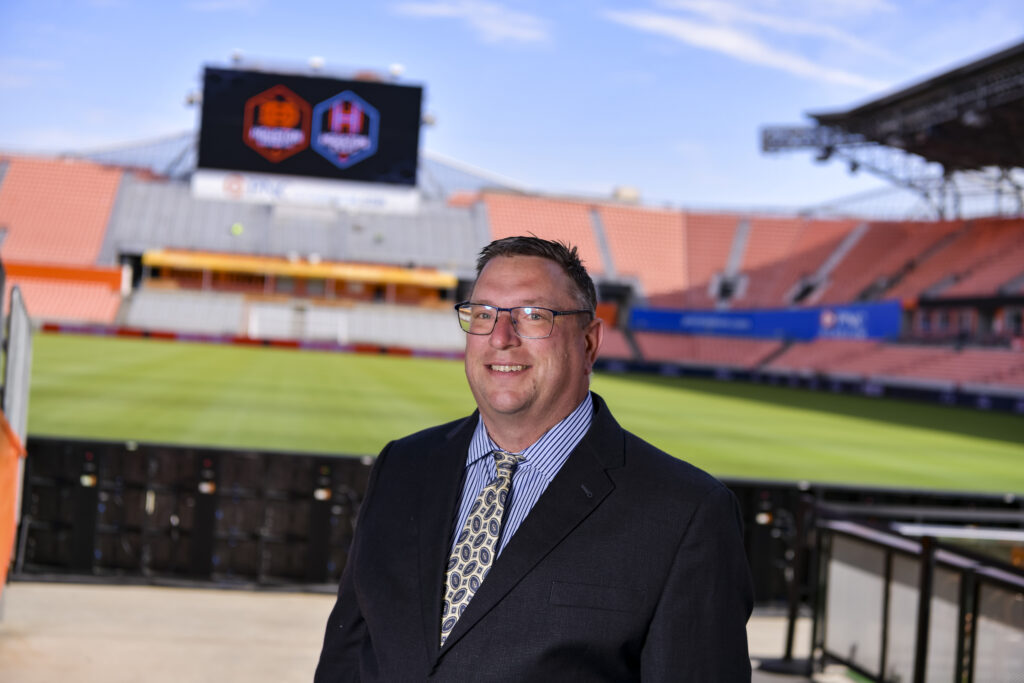 Bergstrom's experience with paspalum turfgrass began when he joined the Houston Astros as their senior director of field operations in 2004. At that time, the playing surface at Minute Maid Park was SeaIsle 1 Paspalum. His predecessor chose the variety to replace bermudagrass due to the shade challenges imposed by the stadium's retractable roof. While SeaIsle 1 handled the shade much better than bermudagrass, Bergstrom wanted a greater level of performance which he wasn't getting.
"There was a ceiling we were hitting, and I just needed a grass that was going to be more durable and stronger," said Bergstrom. "I had tried everything I could think of with cultural practices, fertility levels – high, medium, low. My full bag of tricks. While we were getting good results, we were not getting world-class results."
The Newest Paspalum Innovation
Then Bergstrom met Dr. Ron Duncan, who introduced him to the newest paspalum innovation. Platinum TE, developed by Duncan, featured all of the advantages paspalum brought to the field, including superior shade and low light intensity tolerance, salt tolerance, and rapid recovery. However, Duncan assured Bergstrom that the new Platinum TE possessed all this and much more.
In the fall of 2008, Minute Maid Park converted and became the first professional sports team to select Platinum TE Paspalum.
"The difference was immediate," said Bergstrom. "I was looking to get to the next level with strength and durability, and it was as plain as day that we had made the right call."
The Houston Astros, 2022 World Series Champions, still play on Platinum TE.
Houston Professional Soccer
In 2016, Bergstrom became the director of turf and grounds at PNC Stadium (then BVAA Compass Stadium), home to the Houston Dynamo FC and the Houston Dash, Houston's men's and women's professional soccer teams as well as the Texas Southern University football team. Bergstrom managed the existing bermudagrass field for several years but encountered the same challenge that existed at Minute Maid Park.
"We were looking to get one notch higher," said Bergstrom. "And besides durability and strength, the aesthetics of Platinum TE, when compared side-by-side to the existing turfgrass or, frankly, any other grass, well, it's just in a class by itself. It's a very attractive turfgrass, and under the right fertility, it's beautiful and durable."
PNC Stadium converted to Platinum TE in early 2021. In November of last year, they also converted the Dynamo training fields so the team could train and play on the same surface.
World Class Characteristics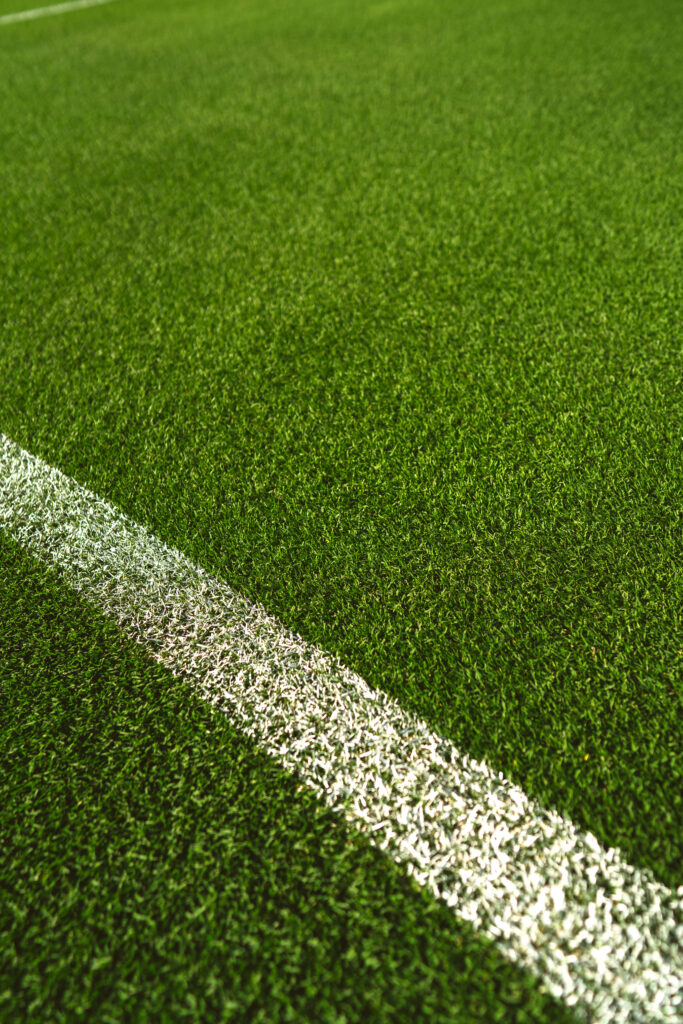 When asked how Platinum TE compares to other turfgrasses, Bergstrom is quick to respond, praising its shade tolerance, durability, beauty, and upright growth habit.
"It's a unique turfgrass. It looks so beautiful that you might think it's delicate, but it's actually hard to damage," said Bergstrom. "It does not get torn up or damaged by cleats as much as you would think in the first place. But when there are worn areas, such as repetitive damage in a spot, it recovers very quickly."
Bergstrom knew from his first experience with Platinum TE how its growth characteristics are an asset. When he planted Platinum TE at Minute Maid Park in 2008, it exceeded all expectations.
"The planting occurred in November. Platinum TE rooted in the wintertime, and we didn't even have to overseed. When we opened up in March with no overseed, people were amazed since our winters can be tougher than you might think. It was quite a feat."
The Challenges of Multiple Sports
Meeting championship expectations is more difficult when the stadium serves multiple functions. At PNC Stadium, Bergstrom is challenged to provide top-caliber playing surfaces for Major League Soccer and college football at the same time.
The complexities of providing optimal turf for each sport are vast. Not only do the seasons overlap, but the nuances involved in delivering the ideal field for each sport are not the same.
"College football is tough because the heavy players are wearing out the grass up the middle of the field. So you end up managing the middle of the surface differently than you manage the sides," said Bergstrom. "In soccer, uniformity of the entire surface is important."
With Platinum TE, Bergstrom has found that the playing surface fits the needs of both sports and holds up to the simultaneous expectations.
"Through improved groundsmanship techniques and the quality of the Platinum TE, we are able to handle it. The college football doesn't tear up the field and leave divots nearly as much as we saw in the past. We're able to convert from football back to soccer with a good surface. And the quality of the surface for soccer is very, very important.
"In a sport where the ball rolls on the ground, every undulation in the surface, every divot, every variation in turf density has an effect on the ball. When you have players at the major league level, they expect the ball to behave a certain way. If the ball hits a divot from last week's college football game, that would cause a problem in advancing the ball down the field."
Platinum TE characteristics such as turf density, rapid recovery, and upright growth habit play significant roles in helping Bergstrom produce the field players expect.
When asked which is his favorite type of playing surface to maintain, Bergstrom goes to his roots.
"The quality of the turfgrass matters most in soccer. And since my degree is in turfgrass management, I've found soccer to be a special place for me. This is where the actual grass is most important."
Positive Reinforcement
Bergstrom's own high standards are not the only measure of the field's success. Since converting to Platinum TE, he has received his fair share of positive feedback.
"This has been a very special year at PNC Stadium," Bergstrom said. "It's just been one compliment after another. We're used to not getting any feedback and being thankful since field managers are like umpires – if no one complains, then you've done a great job.
"But this year, we're heard from everyone. Our coaches have been very happy with how the field looks and plays, but we've also heard from everyone else. Every visiting team, the referees, representatives from Major League Soccer and the National Women's Soccer League have made a point to find us and tell us how beautiful the field is."
Perhaps the most memorable feedback came from the Manchester City Football Club when they came to Houston to play. NRG Stadium hosted the actual match, but the team trained on Bergstrom's Platinum TE surfaces the week prior.
"They came to find us and said this is an amazing surface. That was very special. To have a premier league club with all their resources happy with our surface is a real credit to our crew and Platinum TE."
Besides the many compliments, Bergstrom's efforts have also been officially recognized. At the recent Texas Turfgrass Association winter conference, PNC Stadium was named the 2022 Soccer Field of the Year.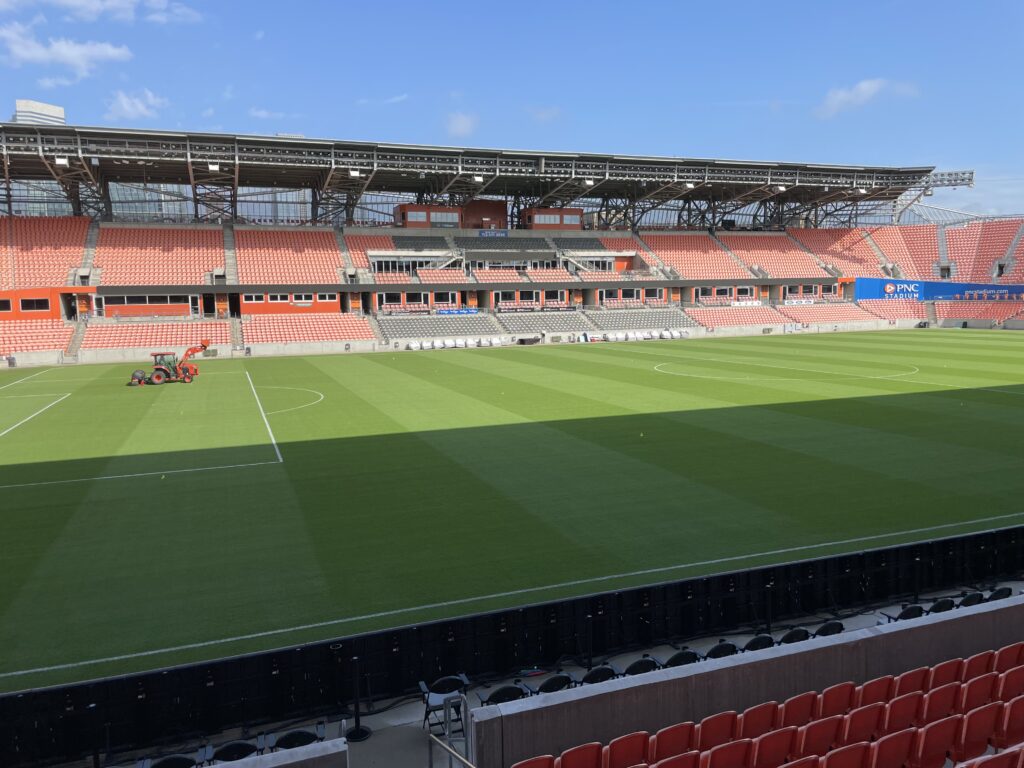 A Collaborative Effort
Bergstrom is quick to share the credit with his team of nine, including Turf Manager Russell Rafter, who oversees the execution of the day-to-day maintenance and also helps to create the overall script.
In addition, Bergstrom relies on Dr. Duncan as a frequent advisor and collaborator. As a leading turfgrass authority and the developer of Platinum TE, Duncan is an authority and shares his knowledge readily.
"He's been my phone-a-friend, so to speak, for years," said Bergstrom. "We are in touch often. I've brought him plenty of questions, and he's been right every single time."
World Cup Excitement
As a long-time proponent of Platinum TE, Bergstrom is not at all surprised that the turfgrass was selected as the playing surface on all eight stadiums and all practice fields of the 2022 FIFA World Cup in Qatar.
"It's been fun to watch the process," said Bergstrom. "The fields in Qatar are gorgeous."
Bergstrom is excited to see the 2026 World Cup come to North America, especially since Houston has been selected as a host city. NRG will be the stadium for the matches and currently has an artificial turf playing surface.
"FIFA requires natural surfaces for the World Cup, so NRG will have to be converted to a natural grass playing field," said Bergstrom. "I know what I'm hoping they select. I'm hopeful that each city will be able to choose the grass that makes the most sense in their sites and then find ways to manage the turfs in different cities to obtain the same playing surface characteristics.
"Sixteen cities across three countries – Canada, USA, and Mexico – will host the 2026 event. It's a big challenge to use different stadiums, different turfgrasses, and have those all have similar playing characteristics."
For the warm season locations, it goes without saying that Bergstrom has a strong opinion as to which turfgrass is up for the challenge.
When asked if any characteristics were missing from his favorite turfgrass – anything left on his wish list, Bergstrom did not hesitate.
"If there are any weaknesses to Platinum TE, I haven't found them yet. And I am the mayor of Platinum TE."